What is a non-surgical nose job?
Non-surgical rhinoplasty is ideal if you're looking to smooth out bumps, bulges, or crookedness in your nose. (Unfortunately, it can't be used to fix more serious problems, such as a deviated septum, or the actual size of the nose.) With the surge of injectables and dermal fillers being used in cosmetic procedures in the last decade comes an ever-expanding list of ways they can be used. Injectables are commonly thought of as wrinkle-diminishing, but they're capable of so much more than that. The latest and greatest? Non-surgical, non-invasive rhinoplasty—otherwise known as a nose job.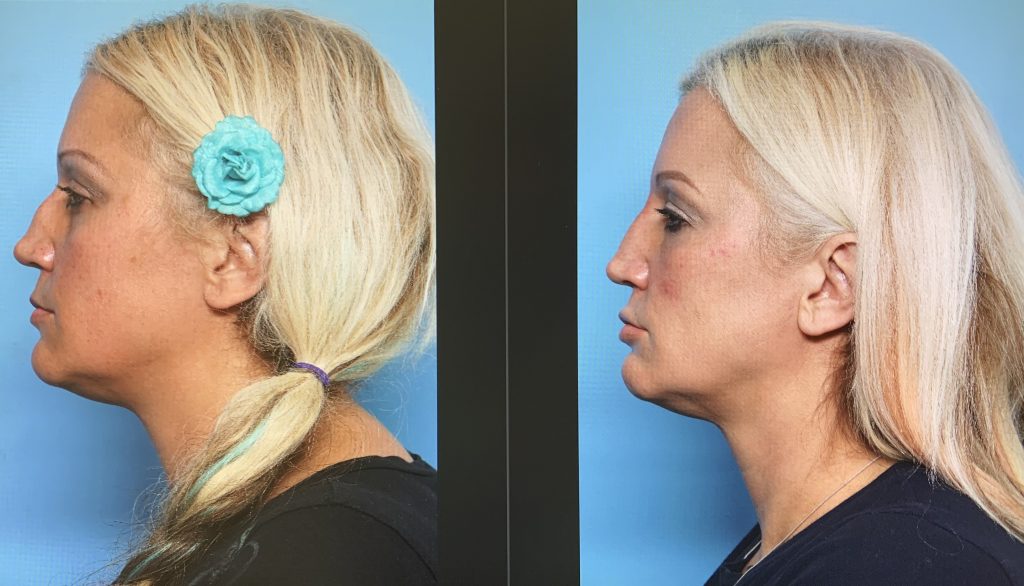 Non-surgical nose jobs can treat
An injury you've sustained that you feel might not be cosmetically pleasing, but doesn't require invasive surgery
A genetic predisposition to bumps, flatness, or crookedness
What to expect during the treatment
The procedure, pioneered in Los Angeles by Dr. Alexander Rivkin, is a simple one. It begins with numbing cream, which is applied to your nose; as this is a cut-free procedure, there is no anaesthetic required. Once your nose has been numbed, the filler is injected just under the skin's surface. Where it goes depends on what type of correction you're having made. After a few injections and a bit of moulding, you're done —your nose is now smooth and shapely, with results that can last up to two years*. No bruising, scarring, or long, painful healing time. Not only can you remain fully awake during this non-surgical procedure but you can have your say on the end results as they happen.
Before and after care
Pre-injection instructions:
Avoid Aspirin, Advil or any anti-inflammatory medication during the week prior to injection; this may increase the risk of bruising or bleeding at the injection site. If possible, discontinue these medications at least 3 days (preferably 1 week) before the treatment. Do not discontinue these medications without consulting with your physician if they are medically necessary.
Avoid green teas or herbal supplements. Eg.: flax or fish oils, multi-vitamins and red wine.
One day prior you may start using Arnica, which is an herbal supplement that minimizes bruising. This is available at our front desk.
To ensure a comfortable procedure please eat and keep hydrated prior to procedure.
Optimally, do not wear any make-up on the day of the procedure. If minimal make-up or skin care products are worn, you will be asked to wash your face with cleanser to minimize the risk of infection.
Post-injection instructions
Some patients may experience minor swelling in the treated area for about 1 week. DO NOT massage or manipulate the injection sites during the first week, even if there are lumps or they appear uneven, as this is a normal part of the healing process. This means that the results immediately after treatment should not be looked upon as the final result. Your ideal results will occur in about 3 weeks when the fillers have fully integrated with the surrounding tissue.
Avoid touching the treated area for 6 hours following treatment. After that, the area can be gently washed with soap and water, patted dry, and a light make-up can be applied, if desired.
Until the initial swelling and redness have resolved, do not expose the treated area(s) to intense heat (ex. sauna, sun tanning, hot tubs) or extreme cold. Exercise and alcohol should also be avoided for the first 6 hours after treatment.
Bruising is a natural response by the skin to injections. Although we try to minimize its occurrence, please anticipate its possibility. Please, do not schedule your appointment before any upcoming special events. Bruising duration varies with the patient and can last anywhere from 3 days to 2 weeks.
Evidence shows that having a follow-up treatment before the product has fully dissipated will enhance the lasting effects. Please consult with Dr. Singh about recommendations for touch-up or follow-up treatment.
Risks and common side effects
Slight bruising or swelling may result in injected area but typically subsides within days.
Non Surgical Nose Job FAQs
Related Articles