What is a Neck and Jawline Lift?
A neck and jawline lift, also called a Nefertiti Lift, is a non-invasive rejuvenation treatment for the neck and jawline.
Using neurotoxin* injections, a neck lift provides an easy alternative to more invasive procedures.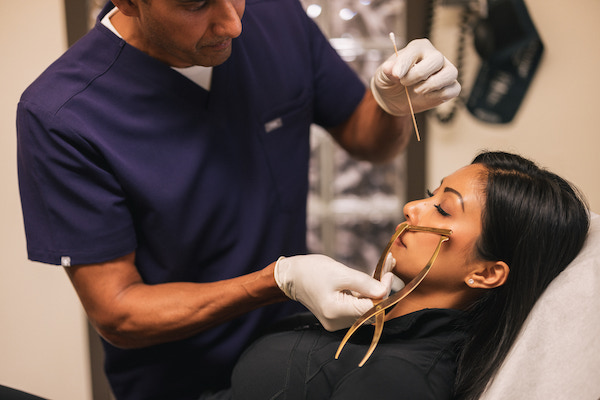 In the past, the only option for reducing signs of aging in the jaw and neck was surgery. But this is the present, and new non-surgical face lift advances have made less invasive options available. For men and women with limited time and a desire to avoid surgery, a new use for wrinkle smoothing injectable treatments in Edmonton may provide a solution—without scars, anesthesia, or downtime. It's being called by some, the "Nefertiti Lift," and is named after the Egyptian Queen Nefertiti who had an ideal jawline.
Why Choose a Neck/Jawline lift?
Although the progression of aging is different for everyone, most people eventually see undesired changes in the appearance of their jawline and neck. Skin thinning, increased laxity, and loss of elasticity are very common concerns. The subcutaneous tissue and the skin also play a role as they lose elastin and collagen thus causing laxity.
Facial muscles play an important part in aging. One of the facial muscles, called the depressor muscle, has another muscle called the platysma (running between the chin and the chest) which makes the jawline undefined and to appear droopy over time even while sleeping. Over time, the platysma muscle pulls down on the cheeks, corners of the mouth and jaw—causing "jowling" and sagging in the neck.
The uses of our wrinkle-smoothing injectable are rapidly expanding. But just because more doctors are offering more options, it doesn't mean that these doctors can perform all of these procedures safely and with favourable results. To make the most of this new neck lift without surgery treatment, you need a physician with detailed medical knowledge and skilled technique. That's what you'll find with Dr. Ashwani Singh at CosMedics. Recognized as an advanced injector by the product manufacturer, he's also a trainer of other physicians.
What to Expect During the Treatment
The procedure itself is very quick and relatively painless. A series of injections will be placed through the jaw line and down the phantasmal bands. The procedure typically takes approximately 10 minutes. You may begin to see results in 2-4 days, but maximum results are typically achieved in 7-10 days. It is important to see the doctor for a follow up appointment in 10-14 days for evaluation of results for first time procedures.
Before and After Care
There is no downtime associated with the procedure since it is a non-invasive treatment.
Post Treatment Instructions
Do not manipulate or massage the treated area for 4 hours after treatment.
Do not participate in strenuous activity for 4 hours after treatment.
Do not lie down for 2 hours after treatment.
The results of your first treatment will typically last 3-4 months. However, everyone has a unique requirement of the amount of product it takes to achieve the desired results.
Risks/Common Side Effects of a Neck Lift
Immediately after the treatment there may be some swelling and redness at the injection site. This should be no cause for alarm as it usually fades away within 24 hours.
FAQs
Dr. Singh is also adept in using these versatile treatments for other concerns such as treating wrinkles. You can discuss these, and your other options for non-surgical facial rejuvenation, during your consultation. Contact us or call us at (780) 428-9333 to schedule a time to meet with Dr. Singh.
*Neurotoxins= Botox, Dysport, Xeomin